NIKLAS BROCHHAGEN
Shiatsu teaches me to be present and open to what is at any given moment. With each session I am fascinated anew by how beneficial attentive, clear contact can be. Movement and bodywork are what centre me and keep me in touch with my own self.
For me, one of the most exciting challenges is to understand how our experiences are memorized within our bodies, and how we can use the potential that our bodies hold to instigate change in all aspects of our lives. Experience has taught me that movement and bodywork are key to an enjoyable, fulfilling life.
I trained to become a Shiatsu practitioner at Shiatsu-Zentrum Edith Storch in Berlin from 2011 to 2014.
Since qualifying, I have been holding regular practice evenings at the Centre, in which I share my knowledge about the meridians in Zen Shiatsu according to Masunaga. I am currently attending the training program to become a shiatsu teacher. I also offer bodywork workshops on topics like Trauma, Gender, LGBTIQA+ and somatics.
I am frequently doing professinal training courses to integrate new approaches into my work, deepen my knowledge and support my clients in the best possible way. Courses I have taken:
Seminars on Shiatsu and posttraumatic stress syndrome (Meike Kockrick)
Online Trainingcourse "Traumatherapy" (Universitätsklinikum Ulm)
Shiatsu and Mindfulness (Achim Schrievers)
Movement Shiatsu (Bill Palmer)
Shiatsu and Psychosomatic Pain (Pamela Ferguson)
As 1. Dan Aikido (Aikikai Tokio) I am regularly participating in regional and international Seminars exploring the enriching connection between bodywork and martial arts.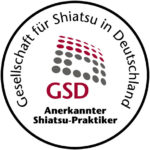 I am a shiatsu practitioner (GSD approved), I am neither a doctor nor Heilpraktiker. I can't replace a doctor or a Heilpraktiker. Shiatsu is no replacement for a medically required treatment. Therefore you must not quit or postpone any medically required treatment with a doctor or clinic.